Lady Gaga had another amazing and successful year, from her sold-out Chromatica Ball to landing a brand new acting role as Harley Quinn. Now let's rewind some of the best Gaga moments of 2022.
New photos of Lady Gaga at the 2022 BAFTA Awards. pic.twitter.com/nSyUpTWtSB

— Lady Gaga Now | Fanpage (@ladygaganownet) March 14, 2022
Gaga kicked off the year with a finish of the awards season for her portrayal in the Ridley Scott directed "House of Gucci". Gaga won the Icon Award at the 2022 Palm Springs International Film Festival. She then attended the 2022 Screen Actors Guild Awards and made a stunning debut appearance at the BAFTAs wearing an incredible Ralph Lauren gown.
According to @people Lady Gaga requested that Liza Minnelli present Best Picture with her at the 94th Academy Awards. #Oscars

"In fact, according to Minnelll's former publicist Scott Gorenstein, Lady Gaga requested that Liza present the award with her." pic.twitter.com/XnOYMTT7Zr

— Lady Gaga Now | Fanpage (@ladygaganownet) March 28, 2022
Gaga then attended both the 94th Academy Awards, where she shared a touching moment with Liza Minnelli, and the 64th Grammy Awards in Las Vegas, where she performed songs from her second collaborative album with Tony Bennett "Love for Sale." They also won the Grammy Award for Best Traditional Pop Album.
In April, Gaga released "Hold My Hand" as the lead single from the Top Gun: Maverick original movie soundtrack, which she composed alongside Hans Zimmer, Lorne Balfe, and Harold Faltermeyer. Critics praised the song as well as the movie, which became one of the highest grossing motion pictures of the year. The song and the score got multiple award nominations, with "Hold My Hand" being shortlisted for the upcoming 2023 Academy Awards.
Lady Gaga took a chance to relaunch her beauty line "Haus Labs". With a total rebrand, Lady Gaga transformed her multi-millionaire brand into a super eco-friendly company that aims to use only natural products for its brand-new formulas.
After exiting a deal with Amazon, Haus Labs by Lady Gaga scored an important deal with Sephora US, making new products (50+ shades of foundations) available for thousands of retail stores nationwide.
The entire summer was marked by Gaga's triumphant return to the greatest stages and stadiums across the world with her sold-out Chromatica Ball Tour. The tour grossed a total of $112 million from only 20 dates, and Gaga became the highest-grossing touring female artist of the year. Gaga broke numerous records with the tour and received widespread acclaim. Lady Gaga celebrated the end of the tour with multiple digital issues of V Magazine.
A pending TV special for the concert is expected to be released next year.
First look at The Chromatica Ball "ACT I" interlude in HD. pic.twitter.com/6dks5ia7zm

— Lady Gaga Now | Fanpage (@ladygaganownet) September 20, 2022
In August, Lady Gaga announced that she would join Joaquin Phoenix in an upcoming "Joker" sequel, officially titled Joker: Folie à Deux directed by Todd Phillips, and expected to release in 2024.
According to Variety, Lady Gaga will be paid $10 million for her role in Joker 2. The movie will have a budget of roughly $150 million.

Artwork by: elilusionista pic.twitter.com/dvxKu0Xw1u

— Lady Gaga Now | Fanpage (@ladygaganownet) August 11, 2022
Gaga finished the year with a record-breaking viral hit, as her 2011 song "Bloody Mary" blew up on digital platforms around the globe, thanks to a viral dance from the new Tim Burton show Wednesday on Netflix.
LADY GAGA DID THE BLOODY MARY DANCE ON TIKTOK. pic.twitter.com/fdlVBK7rGI

— Lady Gaga Now | Fanpage (@ladygaganownet) December 9, 2022
From the LGN team to all of you, we wish you a happy new year, and we can't wait to witness what will 2023 bring for Lady Gaga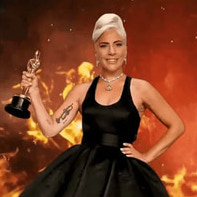 If you want to follow up the discussion about Lady Gaga's best moments of 2022 you can join our Discord communty.